2018-09-17 14:51:12
Is Buying a Home Really More Stressful Than Planning a Wedding?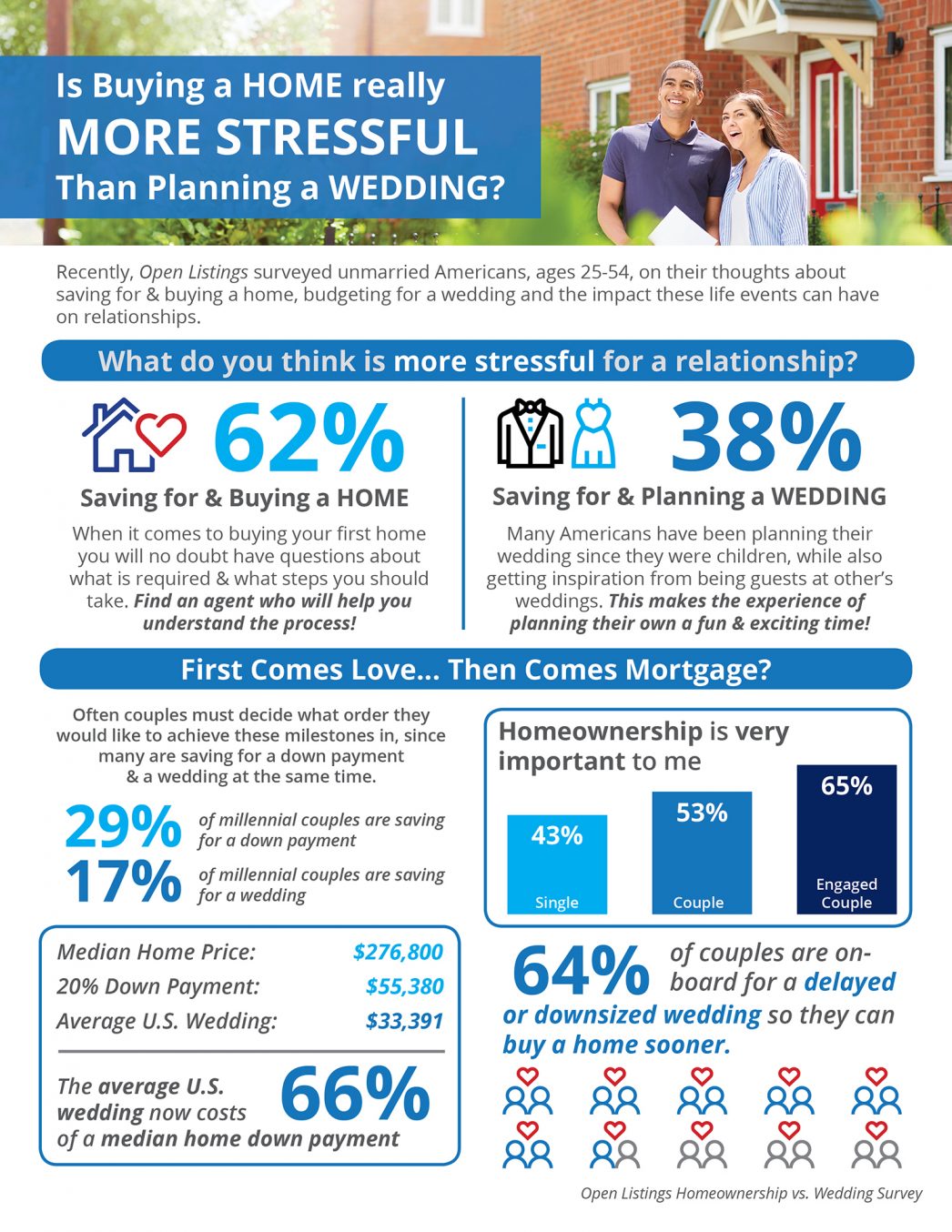 Some Highlights:
According to a new survey from Open Listings, 62% of Americans ages 25-54 believe that buying a home is more stressful than planning a wedding.
Many young couples are saving for a wedding and a home at the same time.
The average US wedding now costs 66% of a median home down payment, according to The Knot.

Subscribe to RSS Feed
Blog Archive
2019-02-21 11:58:34
How To List Your Home for the Best Price
2019-02-19 14:53:39
Greater Idaho Falls Association of Realtors MARCH BLOOD DRIVE
2019-02-18 13:26:32
Millionaire To Millennials: Don't Get Stuck Renting A Home… Buy One!
2019-02-15 10:18:25
Why Homeownership Matters Now More Than Ever
2019-02-14 11:16:28
Pre- Foreclosures on Zillow
2019-02-12 11:59:42
Thinking of Selling Your House in Idaho Falls? This is a Perfect Time!
2019-02-08 09:24:20
The Cindy Bates Group is Here for You!
2019-02-07 14:59:23
Why you Shouldn't FSBO
2019-02-06 11:38:31
Why It Makes No Sense to Wait for Spring to Sell
2019-02-05 10:54:50
Whose Mortgage Do You Want to Pay? Yours or Your Landlord's?
2019-02-01 10:27:08
5 Reasons Idaho Falls Homeowners Throw the Best Super Bowl Parties!
2019-02-01 09:33:07
Idaho Falls, Do You Know How Much Your Home Has Increased in Value?
2019-01-30 10:53:44
Is Student Loan Debt A Threat to Homeownership? No!
2019-01-29 09:18:14
Tuesday Tid Bit! It's not too late! Jan 31, Feb 1
2019-01-28 16:19:37
Think You Should For Sale By Owner? Think Again!
2019-01-24 09:24:16
3 Things You Need in a Shifting Real Estate Market
2019-01-23 10:45:23
Do You Prefer the Charm of an Existing Home?
2019-01-22 09:47:32
Buying a Home Young is the Key to Building Wealth
2019-01-21 20:21:40
The Difference Having a Professional on Your Side Makes
2019-01-18 09:24:53
What is the Cost of Waiting Until Next Year to Buy?
2019-01-17 11:31:14
Where is the Housing Market Headed in 2019?
2019-01-16 15:21:10
Is the Recent Dip in Interest Rates Here to Stay?
2019-01-15 15:04:55
Tax Time is Upon Us
2019-01-14 22:31:46
Buying a House This Year? This Should Be Your 1st Step!
2019-01-11 12:36:18
Homeownership Remains a Huge Part of the American Dream
Click here to see ALL articles.