2018-09-28 15:48:20
Should I Buy Now? Or Wait Until Next Year?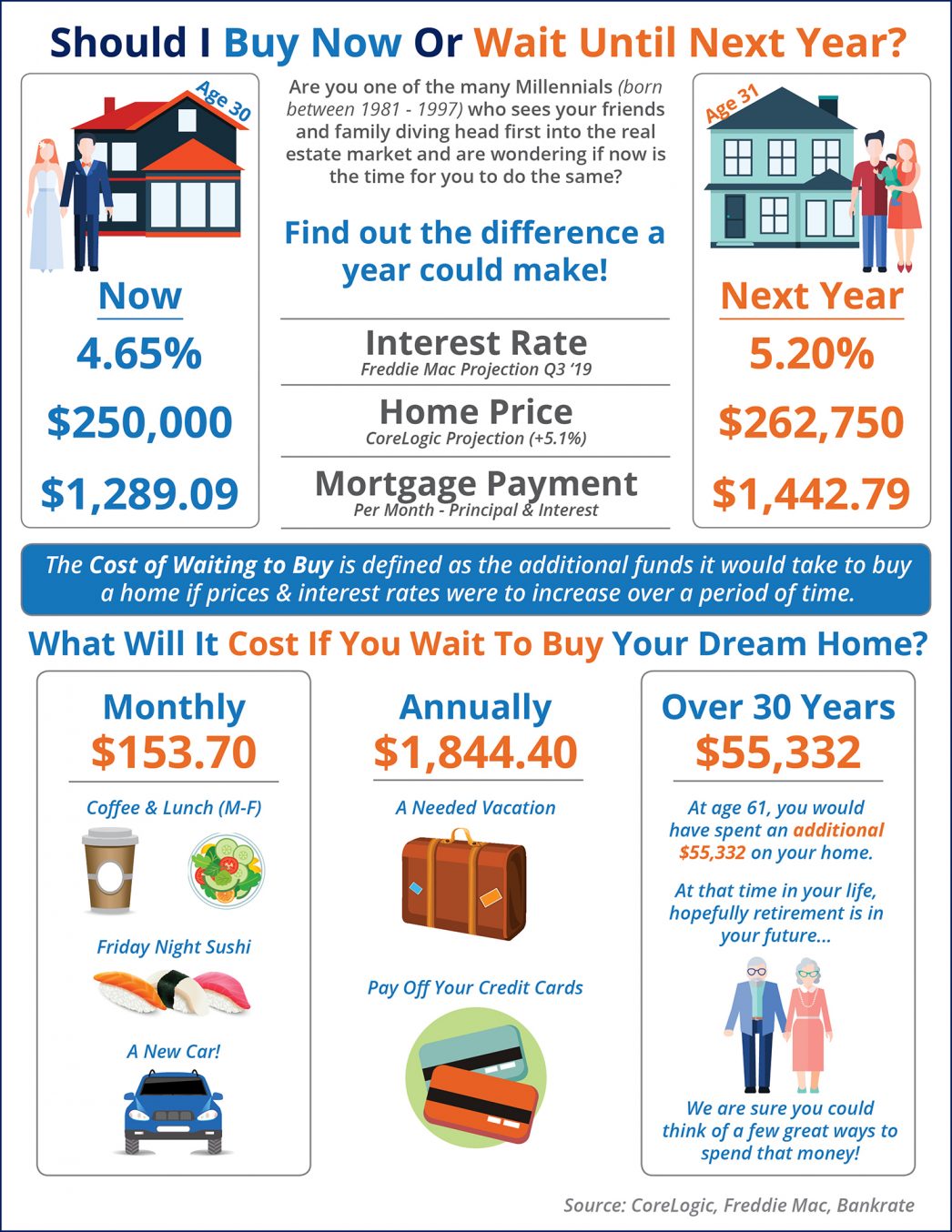 Some Highlights:
The cost of waiting to buy is defined as the additional funds it would take to buy a home if prices & interest rates were to increase over a period of time.
Freddie Mac predicts interest rates to rise to 5.2% by the third quarter of 2019.
CoreLogic predicts home prices to appreciate by 5.1% over the next 12 months.
If you are ready and willing to buy your dream home, find out if you are able to!

Subscribe to RSS Feed
Blog Archive
2018-12-11 11:01:29
How to Simply Increase Your Family Wealth by Paying for Housing
2018-12-10 12:36:53
What If I Wait A Year to Buy a Home?
2018-12-07 15:09:36
The Tale of Two Markets
2018-12-06 14:15:21
Try Just One More Time
2018-12-05 18:11:20
Where Are Interest Rates Headed in 2019?
2018-12-04 11:39:33
Homeowners Aged 65+ Have 48x More Net Worth Than Renters
2018-12-03 13:05:09
4 Reasons to Buy A Home This Winter!
2018-11-30 21:00:10
7 Items to Check Before the Big Freeze
2018-11-29 11:38:26
Further Proof It's NOT 2008 All Over Again
2018-11-28 16:47:22
24% of Renters Believe Winter is the Best Time to Buy a Home
2018-11-27 23:05:22
The #1 Reason to Not Wait Until Spring to Sell Your House
2018-11-26 13:26:24
Buyers: Don't Be Surprised by Closing Costs!
2018-11-21 17:02:47
3 Things Homeowners Are Thankful For
2018-11-20 08:56:10
Females Are Making It a Priority to Invest in Real Estate!
2018-11-19 15:57:52
7 Reasons to List Your House For Sale This Holiday Season
2018-11-16 15:07:50
The Cost of Renting vs. Buying a Home
2018-11-16 07:41:28
Home Sellers in Q3 Netted $61K at Resale
2018-11-12 11:50:14
How to Honor a Veteran Today and Everyday
2018-11-09 14:48:08
Highlights From This Month's Update
2018-11-08 09:17:02
75% of Renters Have Been Misinformed
2018-11-07 12:23:55
Why Has Housing Supply Increased as Sales Have Slowed Down?
2018-11-06 08:36:44
2 Myths Holding Back Home Buyers
2018-11-02 15:27:21
Are We Heading Towards Another Housing Bubble?
2018-11-01 12:34:52
How Will Home Sales Measure Up Next Year?
2018-10-31 10:19:23
Taking Fear Out of the Mortgage Process
Click here to see ALL articles.